Cullen Bunn at SDCC 2019
Cullen Bunn is one of a select few authors that I involuntarily fangirl over. I was reading comics by him long before I began paying attention to the writing credits. I started collecting comics because I loved the art and I loved Storm. I first noticed Bunn's name when I began writing a review of Asgardians of the Galaxy #1. I was shocked when I realized the same guy writing Asgardians of the Galaxy was also writing Bone Parish, Dark Ark, and The Empty Man. By the time Punk Mambo #1 dropped, I was a solid fan. At SDCC 2019, I was fortunate enough to catch up with Cullen Bunn thanks to the delightful people at Valiant Entertainment. After fangirling a little (okay A LOT) We talked briefly about Punk Mambo and how excited Bunn was to be working with Valiant.
"With Valiant, it's excited me that the first project they come to me with is that kind of story in that universe. It's like recognizing that that is what I do, and it plays to my strengths, and plays to the strengths of the character. That's one of the reasons I've been so happy working with Valiant because they saw that."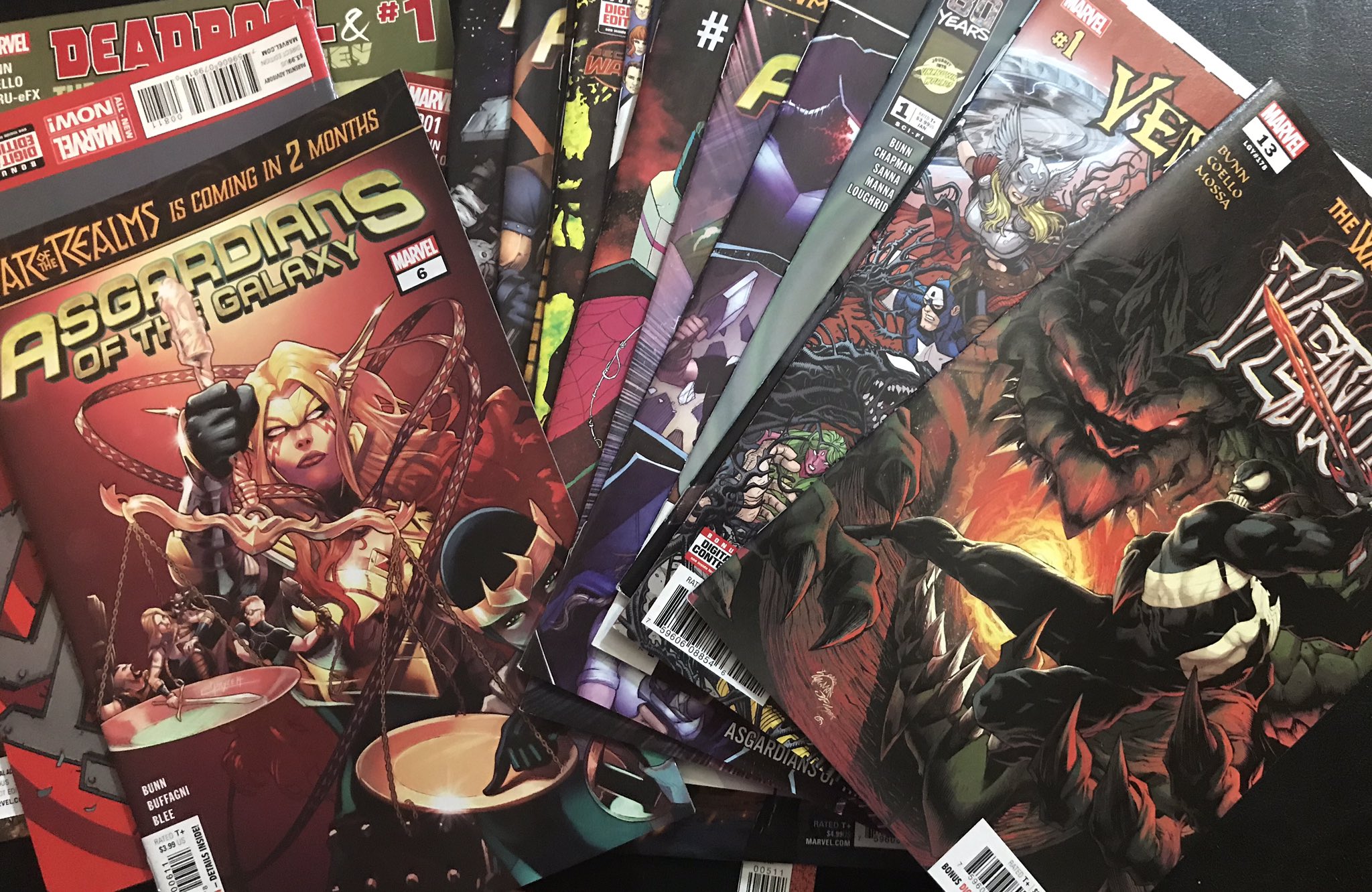 Cullen Bunn's Happy Place
Bunn began publishing his writing in 2005. With a career that spans nearly fifteen years, his current list of writing credits on comics numbers well over a thousand. He's written for a lot of publishers including numerous titles for DC and Marvel. His talent for writing is diverse, and yet quite often his stories walk on the darker side in places where mainstream comics fear to tread. Connoisseurs of the supernatural and horror recognize his work even if they don't recognize his name. He creates tales that delve into the darker side of humanity and wander down twisted trails of fictional worlds fearlessly. This award-winning author is both prolific and highly talented, yet he remained incredibly modest when I referred to him as the Stephen King of the Comics World. An easy-going grin lit his face, and there was a bit of pink in his cheeks when he nodded. "I'll take that. That's fine."
Much of Bunn's work—particularly the characters and stories created by him—carry the eerie feel of a waking nightmare, regardless of whether the gore factor is present. Much like the revered horror author King, Bunn has a talent for finding a genuine human fear and then exploring it and often exploiting it to impressive effect.
"That's where my heart lies really. When I think about the types of stories, I really enjoy the most, I come back to that kind of story over and over again: the darker side of things, the supernatural side, the horror element. It's just where I feel most comfortable. I think there's a lot of potential in that genre. You know I've written a lot of anti-heroes so working with Roku fits into that. But yeah the supernatural horror side of things is always going to be my happy place." His talent for dark humor surfaces as he quips, "My happy place is full of blood and death."

Writing Anti-Heroes
Having an affinity for the dark side certainly makes it easier to write anti-heroes, and Bunn has done quite a lot of that. Our SDCC discussion including chatting about his upcoming series with Valiant, Roku, coming out October 30th. Bunn is the perfect choice to write a female psychic assassin with psychokinetic hair, "Killing her way around the globe." His extensive writing credits include Wolverine, Venom, The Shadow, and many runs of everyone's favorite "Merc with a Mouth," Deadpool. Last year's Deadpool: Assassin run was one of my favorites, and I collected every single issue.
Valiant chose very well, and I hope to see Bunn working with them on many titles. I highly recommend you call your local comic book store (LCBS) and ask them to add Roku to your pull list. Krum's World already has Roku on my pull list.
I've been enjoying a lot of what is happening in the Valiant Universe including the Return of Psi-Lords, so I tried to weasel some info out of Bunn. I asked if he knew what else he'd be doing in the Valiant Universe in the near future. Bunn immediately became secretive and smiled.
"Of course, I know, but I am not going to tell. That's a story for another day."
This slideshow requires JavaScript.
Accessible and Friendly
Chatting with Bunn about his work was easily one of my favorite parts of SDCC 2019. I'm still kicking myself for forgetting to bring a comic for him to sign, but he's such a truly friendly person that standing in line for a future signing would be worth it. Before we parted ways, I asked if there was anything he'd like to say to his readers.
"I'd say to read it and let me know what you think. Social media is pretty easy to find me. When you read the issues, if you like them – look me up tell me what you think. Let me know how awesome I am. I'd love to hear from people what they think of the book because I'm excited about them and I think readers will be excited about them."
I'm currently reading Bunn's recent series Manor Black, awaiting the next Punk Mambo series from Valiant, and looking forward to Roku. The Valiant universe is quickly becoming one of my favorites, and if they keep Bunn writing for them, there's no doubt I'll need several boxes to store my Valiant Collection.